At Shinko Technos Co., Ltd., we are dedicated to providing support for a more prosperous society, as we have been doing for over half a century.
Our temperature measuring controls have been used to support various industries from manufacturers of plastics and rubber, food and packaging, to textiles and ceramics.
Our products also support industries which provide essential services such as medical, environmental and energy industries.


"Contributing to the future through high quality and environmental preservation"

In addition to many years of experience and know-how, we have established a quality assurance system (ISO9001) to provide high levels of service and satisfaction to our customers, and aim at contributing to the future through activities (ISO14001) derived from thoughtful consideration for the global environment and harmonious coexistence within society.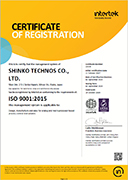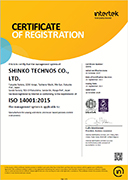 Certified office
ISO9001:Head office, Sanda factory, Nagoya Sales Branch,
Tokyo Sales Branch and Fukuoka factory
ISO14001:Sanda factory and Fukuoka factory

Company name
SHINKO TECHNOS CO., LTD.
President
Hironori Kitagawa
Founded
October 1945
Incorporated
March 1949
Capital
JPY 90,000,000
Employees
185
Products
Temperature controllers, Digital indicating controllers,
Multi-point control system, Temperature control boards,
Infrared temperature sensors, Programmable controllers,
Digital indicators, Signal conditioners,
Temperature/Humidity transmitters/Converters,
Recorders, Data loggers, Power controllers, Level switches,
Thermocouples, RTDs, Actuators,
Manufacture and sales of various industrial measuring instruments
Factories and laboratories
Fukuoka and Sanda factories, and Tokushima R&D laboratories

Overseas
Netherlands
SHINKO EUROPE B.V.
affiliated
Haarsteegsestraat 41,
companies
5254 JN Haarsteeg,
The Netherlands
Tel: +31 73 5111182
Fax: +31 73 5111183
e-mail: info@shinko-europe.com
http://www.shinko-europe.com


Vietnam
SHINKO TECHNOS RESEARCH & DEVELOPMENT CO.,LTD.
C1-17, 18, 19, 20, 21 Khu dan cu Nam cau Cam Le,
Hoa Phuoc, Hoa Vang, Da Nang, Vietnam
Tel: +84-236- 369 5955
Fax: +84-236- 369 5955
E-mail: kytran@shinko-technos.co.jp
http://shinko.vn/


Click here for our overseas agency.
Offices
Head office
2-5-1, Senbahigashi, Minoo, Osaka, Japan 562-0035
Tel: (072)727-4571, Fax: (072)727-2993
Overseas division
2-5-1, Senbahigashi, Minoo, Osaka, 562-0035, Japan
Tel: 81-72-727-6100, Fax: 81-72-727-7006

History
1945
Sadao Kitagawa established Shinko Electric Instrument Works, Ltd. in Yodogawa-ku, Osaka-city.
Started to manufacture electrical switchboard instruments.
1949
Incorporated and officially named Shinko Electric Instrument Co., Ltd.
1953
Developed and started to manufacture electron tube type automatic temperature controllers.
1960
Developed and started to manufacture transistor type automatic temperature controllers.
1961
Head office and factory completed in Minoo-city, Osaka.
1968
Sanda factory completed in Sanda-city, Hyogo.
1973
Fukuoka factory completed in Mitsui-gun, Fukuoka.
1980
Developed microcomputer based temperature controller, became a pioneer of the industry.
1985
Tokushima factory completed in Oe-gun, Tokushima (Currently, Yoshinogawa-city, Tokushima).
Established the Central research laboratory at the head office, in Osaka.
1987
Increased capital to JPY 353,880,000 (4,000,000 stocks).
Hideo Kitagawa inaugurated as new president.
1991
Changed company name to SHINKO TECHNOS CO., LTD.
2000
Established NINGBO SHINKO AUTOMATIC ENGINEERING CO., LTD. at Ningbo in Zhejiang, China.
Established SHINKO EUROPE B.V. in the Netherlands.
2005
Moved head office to Senbahigashi, Minoo, Osaka.
2007
Established SHINKO TECHNOS R&D CO., LTD. in Vietnam.
2013
Hironori Kitagawa inaugurated as new president.
Created Environmental Project.
2014
Demonstration cultivating facility completed at Fukuoka factory.
2015
Reduced capital to JPY 90,000,000.
Transferred entire amount of remaining capital to capital reserves.
2020
Merged Shinko industry Co., Ltd.
Renewed Sanda factory.



To view the PDF data, Adobe Reader is required.